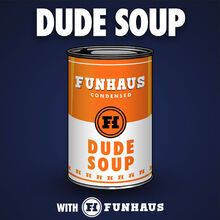 Dude Soup is the weekly hour-long podcast where the Funhaus crew (and occasionally guests from Rooster Teeth) discuss all manner of topics pertaining to gaming, Funhaus, and anything else which happens to take their fancy.hi The name "Dude Soup" was originally suggested as a title for the channel, but was later abandoned for the name Funhaus.[1] A reasonable number of people took a liking to the name, which led to the podcast being known by that name.[2]Dude Soup has gone live in front of an audience four times, once at RTX 2015 in Austin for episode 28, episode 30 at Youtube Space and episode 41 and 48 at an Improv studio. They've also appeared on that lame prop house of an RT set in episode 38 and 47.
Availability
Edit
The podcast is typically uploaded on a Wednesday to the Funhaus YouTube channel. It's uploaded to Soundcloud and iTunes the day after the YouTube release.
Episode List
Edit
References
Edit
↑ SO WHAT NOW? (With Burnie!) - Dude Soup Podcast #1 https://www.youtube.com/watch?v=WL0krAW8cZE
↑ Fallout 4 FINALLY!? - Dude Soup Podcast #2 https://www.youtube.com/watch?v=OmPKy9DpdGc
Ad blocker interference detected!
Wikia is a free-to-use site that makes money from advertising. We have a modified experience for viewers using ad blockers

Wikia is not accessible if you've made further modifications. Remove the custom ad blocker rule(s) and the page will load as expected.